Silverhawk Aviation is proud to offer an expansive selection of the latest avionics instruments and packages for Citations and other aircraft.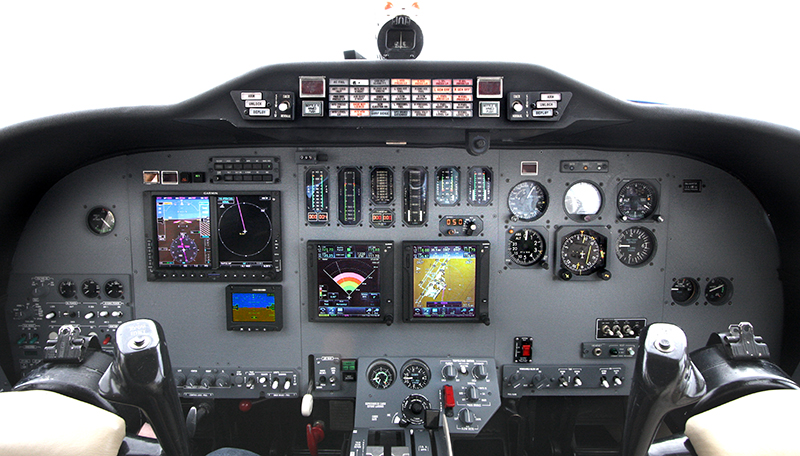 Why You Should Upgrade.

-ADS-B In and Out Solution
-Fly WAAS GPS approaches
-Less expensive repairs, less downtime
-New Garmin Radar and XM Weather
-See clearly in IFR conditions with SVT
-Interfaces with popular avionics and autopilots*

Choose Silverhawk.

-We'll pay top dollar for removed equipment
-Free WiFi installation if done at same time
-FAA Certified Repair Center
-Industry leading/recognized service center
-No sales tax for out-of-state airplanes
-Highly-trained & experienced staff
Silverhawk Aviation is an authorized dealer for Garmin and other major avionics manufacturers. Our highly-trained and experienced maintenance technicians can completely update, or overhaul, your existing panel and take advantage of the latest technology our industry has to offer.  
We have many options to choose from. Based on your needs and preferences our staff will guide you seamlessly through the process. With low downtime, you can soon enjoy the convenience and robust benefits of your new panel - not to mention you would have a safer, more reliable, and more functional airplane.
Click on your Citation model below to see what upgrades are currently available for your model aircraft.
---
Did you know that upgrading your citation can actually NET you money?

This upgrade replaces the vast majority of aging equipment causing many of your typical maintenance issues. The potential for maintenance savings can become very substantial over time. (We found on the two Citation V's in our fleet that approx. 20% of our maintenance expenses were due to repairs on the avionics.)

Another factor to help lower the net cost is that avionics being removed from the panel can be sold to cover a sizable portion of the initial cost.  However, the value of this equipment will decrease over time as more of the fleet performs these upgrades, so it pays to act now. 

"A new glass panel with all of the bells and whistles may seem like an expensive – though attractive – luxury, but it can also be a very smart financial move under the right conditions."

To learn more about how upgrading your citation can actually NET you money, CLICK the article below.
---
 

Silverhawk Aviation has performed thousands of upgrades and overhauls to aircraft just like yours! We've also performed many full-panel avionics upgrades equipping aircraft such as King Airs and Citations with the latest in Garmin avionics including G600 PFD/MFDs, Garmin radar, remote audio panels and transponders, and touchscreen GTN 750 and 650 Nav/Coms.
Want to see exactly what this could mean for your aircraft?  Have one of our maintenance specialists contact you today!

We are currently offering amazing incentives such as: